Key West Photomarathon
On Sunday, July 23, 2017 Fotomission and Tropicolor will challenge your creativity with the Key West Photomarathon, a fun and exciting event that is open to all who enjoy photography.
You will be assigned six topics to photograph in Key West over a period of six hours. The topics will be kept secret until the event day and are purposefully vague to allow plenty of room for self-expression. During the event the secret topics will be divulged one per hour via FaceBook, Instagram and Twitter.
You may use the camera of you choice, including phones and drones!
You will receive an ID badge to facilitate capturing images and make you recognisable to the other participants of the event.
The best photos from each topic will be selected, and from those, the first, second and third place winners, as well as honorable mentions will be awarded prizes that include, Tropicolor acrylic mounted fine art exhibition prints of the winning images, valued at $400 to over $1,000, as well as "Fotomission Photographer" hats and shirts. Additionally, all the contestants' images will be permanently exhibited on this page.
Should your company or school wish to participate as a team, please contact us.
We are looking forward to your participation and a very exciting event as always.
Thank you and good shooting!

Before completing your registration, please read the contest Rules, and Terms & Conditions. Completing your payment indicates your agreement with the event rules, terms and conditions.
Online Registration:
Entry Fee $49
Online registration deadline: July 15, 2017
Pay online using the PayPal link below
Important: If you are registering for someone other than yourself, please enter the participant's name and email in the "add special instructions to seller" field of the PayPal form. Repeat this process for each participant
You will receive an email confirmation, updates and a reminder the day before the event
An ID card will be mailed to the address that appears on your PayPal form
The first 10 registrants will also receive a "fotomission PHOTOGRAPHER" hat


Registration Now Closed

IMPORTANT: We will send a confirmation email within 24 hours, as well as subsequent updates and a reminder the day before the event. Please add info@fotomission.org to your spam filter's approved contacts list.
SPONSORED BY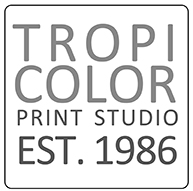 Tropicolor is one of the country's premier fine art printers, creating photographic prints for domestic and international artists and galleries. Many of the photographic prints on display at the annual Art Basel Miami Beach expo are produced by Tropicolor's knowledgeable staff. We are fortunate to have them sponsor our events and thank them for their very generous contribution.